What's it Like to Live in a 55+ Retirement Community?
Life in a Retirement Community
Moving can be exciting and challenging at any age, but it helps to know what to expect. When your next move is to a retirement community, you might wonder what the lifestyle is like.
Every community is unique, as retirement living is tailored to the residents and their care needs. As a result, the range of events and activities can depend on the individual facility. Still, there are some experiences common in a 55+ community. But some services make senior living one-of-a-kind.
Downsizing
Although it can depend on where you lived before the move, most seniors moving into a retirement community are downsizing. There are advantages and disadvantages to shrinking your space, mainly related to material possessions. Seniors with attachment or nostalgia to memorabilia, furniture, or other treasures can find downsizing challenging.
However, there are ways to make decluttering and downsizing a positive experience. For one, it's a chance to reminisce by going through old treasures, photos, and memories, especially if the task is completed with family or friends.
Downsizing also reduces costs and upkeep responsibilities. By moving into a 55+ community, the tedious upkeep chores, like mowing the lawn or maintaining the residence, are taken care of by the facility. Residents can personalize their own space, but they don't need to worry about a to-do list for laundry, house cleaning, or other chores.
Socializing
While age isn't the only glue binding together a social group, it can sometimes provide a shared experience to bond over. More than that, retirement communities also organize or host many events and activities. Plus, events and social activities are nearby, ensuring transportation or distance isn't an obstacle. The facility helps facilitate participation.
When outings, appointments, or adventures take place away from the community, seniors can benefit from complimentary transportation services. Although there's always something fun to do on campus, seniors in independent living can enjoy freedom with convenience.
Active Living
Retirement communities have plenty of fun events, but they also emphasize activities for physical health, including exercise classes or gym facilities. Seniors can take advantage of guided classes or make exercise a social occasion.
There are multiple health benefits of active living as an older adult, including reducing the risk of medical conditions and protecting the mind. According to the Center for Disease Control and Prevention (CDC), older adults need:
At least 150 minutes of moderate-intensity activity
At least 2 days a week of muscle-strengthening activities
At least 3 days a week of balance activities
Examples of moderate-intensity activities include brisk walking, dancing, swimming, or bicycle riding (stationary or outdoors). Alternatively, the CDC says you can substitute 150 minutes of moderate activity with 75 minutes of vigorous activity (hiking, jogging, running). Balance activities can include yoga, pilates, a balance board, or simple exercises.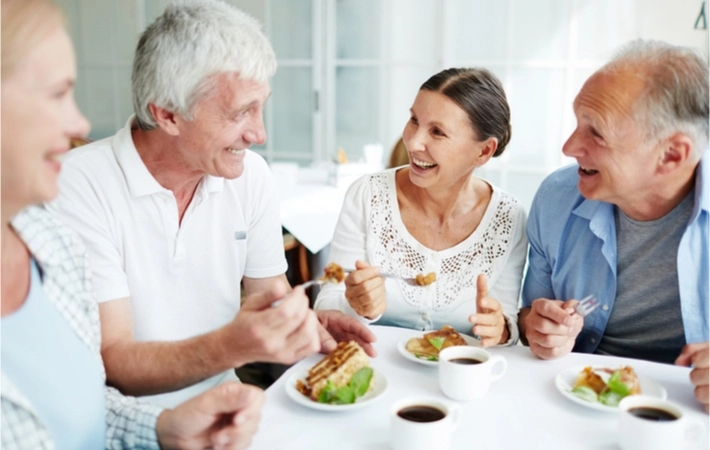 Personalized Care
Senior retirement communities can customize services and care. Residents consult with community staff and experts to develop physical and mental wellness programs. They can pack their schedules full of clubs, outings, fitness routines, and special events—or they can relax and participate at their own pace.
Personalized care in an independent living community is more than housekeeping services. Retirement communities can help improve the quality of life for seniors. At The Lodge at Truitt Homestead, residents can have access to various health and wellness services, including:
· Physician visits & therapy services
· Religious services & celebrations
Being a part of a 55+ community can feel like living a vacation at home. However, residents can also choose to take a vacation from their vacation with activities and outings to support their ideal lifestyle.
Safety & Security
Retirement communities can be diverse, including the type of individual care. Not all seniors in the community may take advantage of health or safety services, but they are there when needed. Whether residents have a cold, a household accident, or a fall, having services on call and nearby can be a comfort.
Residents can call on 24-hour emergency maintenance and security services. If it's not an emergency, there are staff on-site to make everyday lifestyle needs easier. Senior community members can feel safe knowing there's always someone available to help when needed.
Nutrition & Dining
Eating well is a luxury, but it's well within reach in a 55+ community. Retirement communities offer more availability for dining. Residents can expect gourmet meals, prioritizing flavor, variety, and nutrition.
For some older adults, the mundane tasks of shopping, cooking, and meal preparation can introduce obstacles. But seniors in 55+ communities have access to delicious meal services and the freedom to choose what works best for them.
Independent living at The Lodge at Truitt Homestead includes units with designer kitchens, so seniors who enjoy cooking can still prepare their meals in style.
See What It's Like at The Lodge
What is it like living in a 55+ community? That can depend on the individual community and the services or amenities they offer. When it's time to move into senior living, prospective residents should learn everything they can, including booking a tour! Seeing your new community in person is a chance to know what it's like and if it might feel like home.
The Lodge at Truitt Homestead isn't just a community; it's a family. Contact us today!