With so many senior living communities out there, how do you choose where to live? One thing is for sure, the community you decide to live in should share your ideals and values. After all, you are going to call that place home, and home is where the heart is.
Searching for Community
Who you are is important, and you need to live your life in a warm and welcoming way. The senior care community you choose should feel comfortable and homey.
So, there are some things you may want to consider before making the big move.
Unconditional Equality For All
Things have come a long way since the 1970s, when the LGBTQ community gained the same legal protections as the rest of the population. Since then, civil unions have become legal, and Delaware began seeing same-sex marriages across the state.
Right now, more than 39 million people in the US over age 65 identify as openly lesbian, gay, bisexual, transgendered, questioning (LGBTQ), and more! As the boomer generation gets older, that number is anticipated to rise.
This progressive shift means that many businesses are also continuing to shift their perspectives. Increasingly, it is becoming more commonplace to provide acceptance and inclusivity (thank goodness). In turn, it means that senior living communities are also seeing a shift in the ways they conduct themselves.
However, it is important to mention that not every senior living community will provide an equally comfortable experience for everyone. The community you choose should welcome you with big, open arms.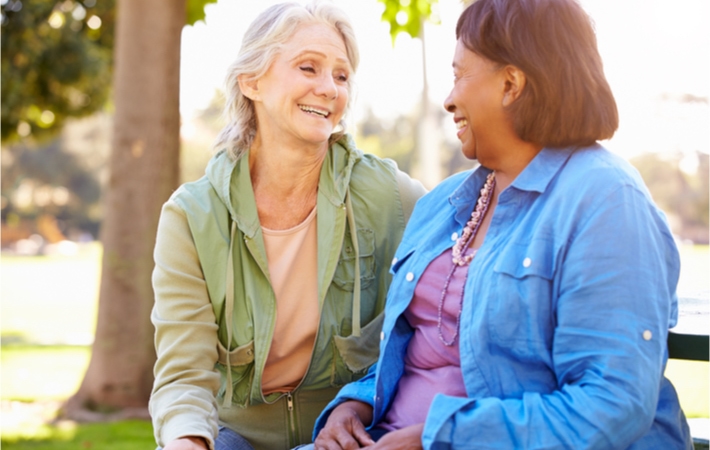 Many Factors to Consider
There are several senior living communities in every neighborhood. Choosing one that supports your values isn't always as easy as finding the answer in the FAQ section on their website. Although many spiritual followings are becoming more accepting, some immovable beliefs continue to exist.
It Doesn't Hurt to Ask
It is understandable that asking outright can be difficult. And judging a book by its cover could be misleading. Several communities tout the comforts and welcoming social life they offer, but not many come right out and say what they mean.
If you're comfortable asking, please ask! You can get a lot of information from the simple question "do you support LGBTQ lifestyles?"
They could say no, and that's the end of the conversation. Or, the person on the other end of the phone may not have a straightforward answer, which should raise some more questions.
Events & Social Activities
Having a look at the events and social activities calendar may provide some insight for you. Often, senior living communities tailor their calendar of events to what the community members enjoy. Do you see events and activities that interest you?
What types of off-site activities does this community participate in? Is there any mention of Pride events, past or present?
Talk to the People That Live There
If you're touring the community, it's a good opportunity to talk to the people who live there. This could be your future home, and your future friends. You can learn a lot by meeting and chatting with people who experience life there every day.
Trust your gut. If the senior community you're visiting feels like a place you would be openly welcomed, no matter your walk of life, then you may be correct. Be sure to double-check that gut feeling by having a conversation with the administration staff.
Ask Your Friends
The people you know and love have been by your side for a reason—you trust and respect each other, and have some great laughs along the way. Get their opinion. It is easy to be blinded when you look at the picture-perfect community with rose-colored glasses on.
And, if you aren't comfortable asking the community administration staff yourself, you can always ask a favor from the people closest to you.
The Big Decision
Making the move into a senior living community is never easy, but it can be made even more difficult when you are part of a minority group, like the LGBTQ population.
In this pivotal moment in time, LGBTQ people are aging and looking for a senior living community that will respect their values and honor their true personalities.
At The Lodge at Truitt Homestead, we see you. We respect you. And we want you to be safe, happy, and comfortable in your life. Enjoy a place where you can feel a strong sense of belonging, while enjoying your wellness journey—whatever that may be.