As the Baby Boomers, one of the largest generations in American history, reach retirement age, they may be downsizing their homes, or their adult children are frequently stepping in to assist with caregiving duties – and this comes at a cost.
More and more people are being forced to make these life-altering decisions. You might even be wondering if it's the right time for them to be in a senior living community.
At first, taking care of a parent by yourself might seem normal, practical, and logical. However, providing care for family members can quickly become too much to bear financially and emotionally.
If you are considering taking care of a loved one on your own, make sure you have all the information regarding what your day to day will look like. It's okay to ask for help if you need it. Read below for some additional costs you may not have already considered.
Time Away From Work
The impact on your career is by far one of the most difficult issues caregivers face. Caregivers reported spending an average of 61 hours per week caring for children and 28 hours per week caring for adults. These obligations make continuing work responsibilities difficult, family caregivers are frequently forced to quit their jobs, work fewer hours, or retire early. Some challenges that will likely arise include:
Losing benefits such as health insurance and retirement savings
Taking unpaid leave for an extended period
Fewer opportunities for advancement
Reduced job security
Other unexpected financial costs associated with leaving the workforce include the impact on potential raises and promotions, as well as participation in a variety of important financial employee benefits such as:
401(k) plan or workplace savings plan (with an employer match)
Employer contributions to health savings accounts and health insurance coverage (HSAs)
Tuition reimbursements
Plans for employee stock purchases
Coaching for financial well-being
Of course, because it's family, it's a decision that most people would make. Making sure your elderly parents are safe takes precedence over any financial concerns. However, caregivers should be honest with themselves about the sacrifice involved and have a plan in place before making the decision.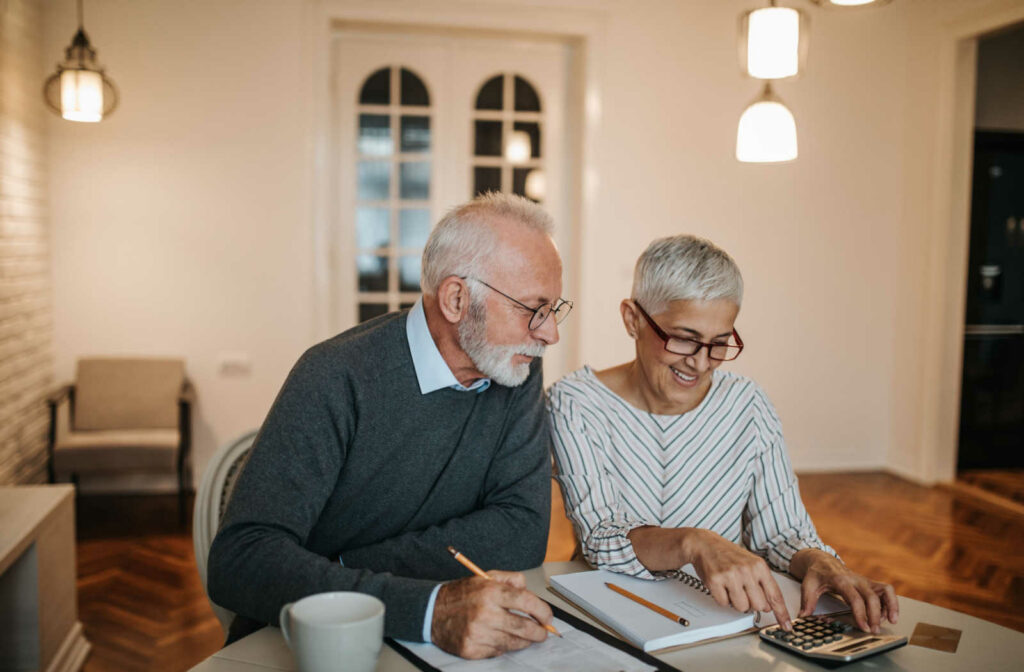 Mental Health
Unless you're already familiar with caregiving, you may not be aware of the toll it can take on your mental well-being. Caregivers of critically ill family members may be at risk for clinical depression for months, if not years, after their loved ones have passed.
This risk is higher for these caregivers than for the rest of us, including those who care for loved ones with chronic progressive illnesses like Alzheimer's disease. There is also a lack of resources for caregivers.
These unanticipated negative health consequences of providing care are detrimental and expensive. While the physical demands of family caregiving can increase the risk of chronic conditions, stress and depression can result in long-term mental health issues. Some tips you should try to take care of yourself include:
Don't do it alone. Get as much assistance as possible.
Plan a regular walk with a walking friend.
Find a support group.
Allow friends and neighbors to assist you with cooking and errands.
Prompt financial planning. Don't wait for a crisis to sort out your affairs.
Talking with our loved ones about their goals and wishes for care while they are still in good health, and draft any documents that put these wishes in writing.
Last but not least, you must take care of yourself, both physically and psychologically. Make sure you get enough sleep. Go to the gym. Attend a yoga or meditation class.
Home Updates
When caring for elderly parents at home, senior home safety and accessibility are major concerns. While these home improvement projects may be costly, avoiding injuries and lowering the risk of falls could save thousands of dollars in medical costs. Some things you may need to consider adding to your home include:
Grab bars and chair lifts
Alarm systems and door safety locks
Ramps for wheelchairs
Fire safety inspections
Alert devices and GPS tracking
Being Prepared is Best
Caregiving requirements vary by family and are determined by the condition of a loved one. Someone who is able to move around easily, may only require limited assistance with basic household tasks.
Others may require assistance with more difficult tasks or even 24-hour supervision to ensure their physical, mental, and financial safety. The severity of the disease and how far along the disease has progressed for a loved one's condition influence the intensity of caregiving.
If you're transitioning into caregiving for a loved one, or just looking for some help along the way as you decide whether or not to transition your elderly parent into a senior living community, it's best to have a plan.
Take care of yourself and don't be afraid to ask for help when you need it. Contact us today and we can help you decide what option will be best for you and your loved one so you can feel secure and safe in your decision.