Have you recently retired? Do you find yourself spending more time dusting unused rooms and sorting through decades of clutter instead of pursuing hobbies? If the halls of your home are feeling more echoey than inviting, it may be time to consider downsizing.
Not sure it's the right time to move? Start by exploring your options and learn how downsizing can lead you to a more leisurely, financially free lifestyle.
What Does Downsizing Mean?
Downsizing refers to selling one's home and relocating to a smaller abode.
Downsizing was long thought to be the domain of empty nesters, but these days people of all ages are seeking smaller living spaces. Some are in pursuit of a less materialistic lifestyle or following travel dreams. The recent surge in popularity of tiny homes and van life may also drive people to downsize.
Every person's reason to downsize is unique to them. It's your life— enjoy your new chapter in a home that fits you.
Factors to Consider when Planning to Downsize
Convenience
One of the main reasons people seek to downsize is convenience. It's likely not your idea of a good time to spend your retirement on household maintenance and chores.
Moving to a community designed for leisure, fulfillment, and relaxation can help you make the most of your freedom years. Find a community that boasts services, amenities, and activities right on-site to maximize your joy.
Your Health
A major consideration for those choosing to downsize is health status. Large family homes often aren't built with accessibility in mind. This can interfere with the daily activities of those with mobility challenges.
Multi-story homes are difficult to navigate when using mobility devices like wheelchairs or walkers. Between stairs, narrow doorways, and other hazards, people often find it easier to move into a space designed to fit their needs instead of retrofitting their current house.
Even if you don't have any pressing health problems, it's wise to plan for the future. Finding suitable accommodations now, before any health problems arise, can prevent stress and give you lots of time to settle into a new home.
Your Family
Many retirees choose to downsize when their children leave home. Empty nesters may find that their house has simply grown too big for their needs without the entire family filling it. Too much space can be impractical for everyday use.
However, if your family lives nearby or you enjoy hosting large get-togethers, a smaller home may present challenges when entertaining. There are workarounds for this. Consider setting aside funds freed up by downsizing to rent a hall, book private space at a local restaurant, or see if a family member wants to try hosting the holidays. Less space doesn't mean less socializing!
Travel Plans
Aruba? Jamaica? Where do your travel dreams take you? If you long to visit historic cities, spend your days on white sandy beaches, or road-trip across America, downsizing can allow you to take off and make your travel plans a reality with ease. If extensive travel is your dream, selling a large family home and saving some of the profits will allow you to stretch your globetrotting budget.
Moving into a smaller home—especially into a retirement living community where maintenance is taken care of—will offer you more flexibility when planning your adventures. Even a weekend trip to see friends and loved ones is easier when the security and maintenance of your home are already managed.
Accessing Your Equity
It's no secret that after retirement, your income can change drastically. If you own your home outright, selling will allow you to access that equity and give you more financial flexibility in your retirement.
Budgeting
Downsizing can also make retirement easier on your daily budget. A smaller home can mean a smaller mortgage, but the savings go well beyond that.
For example, think of the dramatic decrease in utility costs if you're only paying to light, heat, and cool a 600 square foot 2-bedroom condo compared to a 2000 square foot 5-bedroom house. You can expect similar savings on your yearly maintenance costs.
Additionally, once you've retired and are living on a fixed income, the costs of owning your large family home may prove unmanageable. The rule of thumb says spending over 30% of your income on your housing situation can leave you burdened by the cost.
The earlier you downsize, the more money you can save. Even 4 or 5 years with lower monthly costs can add up to a whole lot more wiggle room in your retirement budget.
Relocating
After retirement, you may have the option to move anywhere you like for the first time in your life. During our careers and while raising our families, we need to consider where our job takes us, school district options, and neighborhoods that offer amenities for everyone in the family.
If your family members have moved away, you may want to relocate to be closer to them. Or perhaps it's time to seek out the location that's ideal for you. Always wanted to retire someplace hot? Spend your days along the coast? When downsizing, the world is your oyster.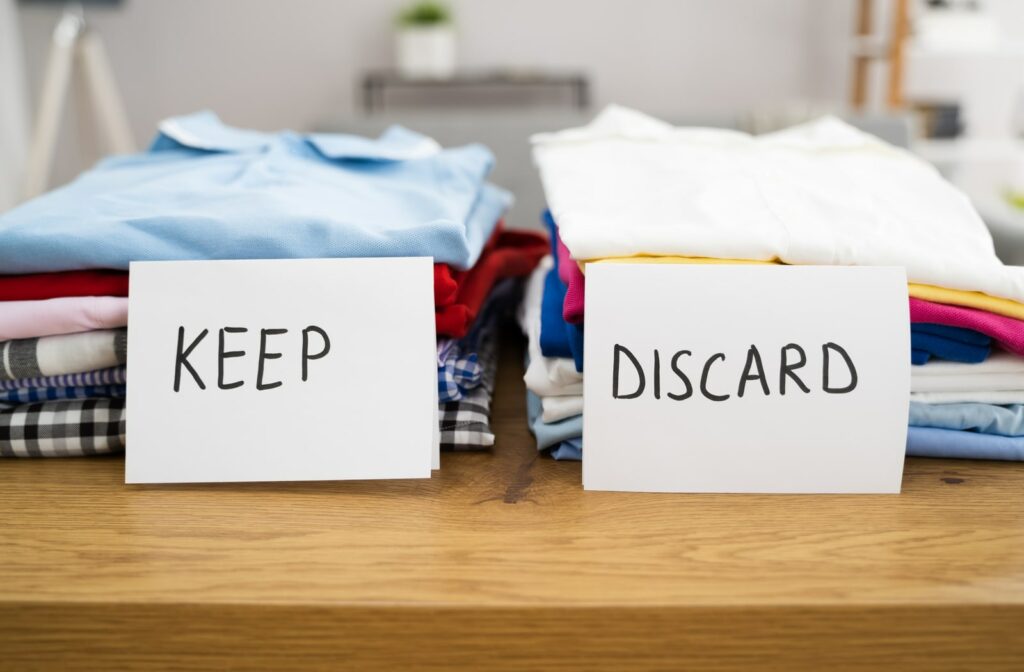 Don't Let Downsizing Surprise You
Downsizing presents many exciting opportunities, but it's important to consider the challenges as well. Think over downsizing from every possible angle to prevent shock or disappointment once in the process.
Decluttering & Purging
The chance to declutter your space may feel like a relief in some ways. However, the process can also bring up complex emotions. Some things you own likely hold dear memories, and sorting through them can awaken feelings of nostalgia or even loss.
On top of the emotional toll decluttering can take, it's also a very physical task. Particularly if you lived in a large home for a long time, downsizing could take strategic planning and hours of work. This job alone is an excellent reason to begin downsizing early.
Moving Costs
Moving costs can add up quickly. You may even need to put money into your home to give it a facelift before you sell. Don't forget to account for realtor fees, taxes, and any renovations you may need to do to get your sale finalized.
Fluctuating Housing Markets
Selling at the right time is crucial when it comes to getting the most value from your home. Speak to a professional to have your house appraised, so you have a clear idea add what to expect when your home hits the market.
Plan a Future That's Right for You
So when is the right time to downsize? At the end of the day, it's a personal decision that will be swayed by your lifestyle and unique wants and needs.
The one thing we recommend? Don't add stress to your plate by waiting too long to consider your options. Making a downsizing plan early gives you more control and peace of mind. If you're looking for expert advice, contact the team at The Lodge at Truitt Homestead. Retirement living is our specialty.